Archery is probably an ancient sport and we might assume that it is not difficult to play this game as you can take the bow and shoot to a specific target. However, to win the score, you should know how archery is played. Chances are if you are reading this article, you will identify it quickly and clearly.
#1 – Identify your right-hand side to control the bow
In general, all archers control the bowstring within their right hand. However, you should not worry too much about this point for the first time of holding it. Just select your bow and follow your feelings.
If you use your right hand to shoot, then you should use your right eye needs to open in order to look at the target. Similarly, you should take the other side when you have the left-handed.
#2 – Adjust your position
Your position is also an important factor that effects on how well you control the bowstring. So, you should also pay attention to your position.
Adjust one foot on the right shooting line and wide your feet that have a suitable width with your shoulders. Then, focus on your entire weight on your feet, and switch your body to a square to shoot the target.
#3 – Control your arrow
When you adjust the right position, you need to draw your arrow initially. Then, put it on the bow and slide it backward. By doing this, you can clip the back on the right bowstring. At the same time, the cock feather should be controlled on the left side.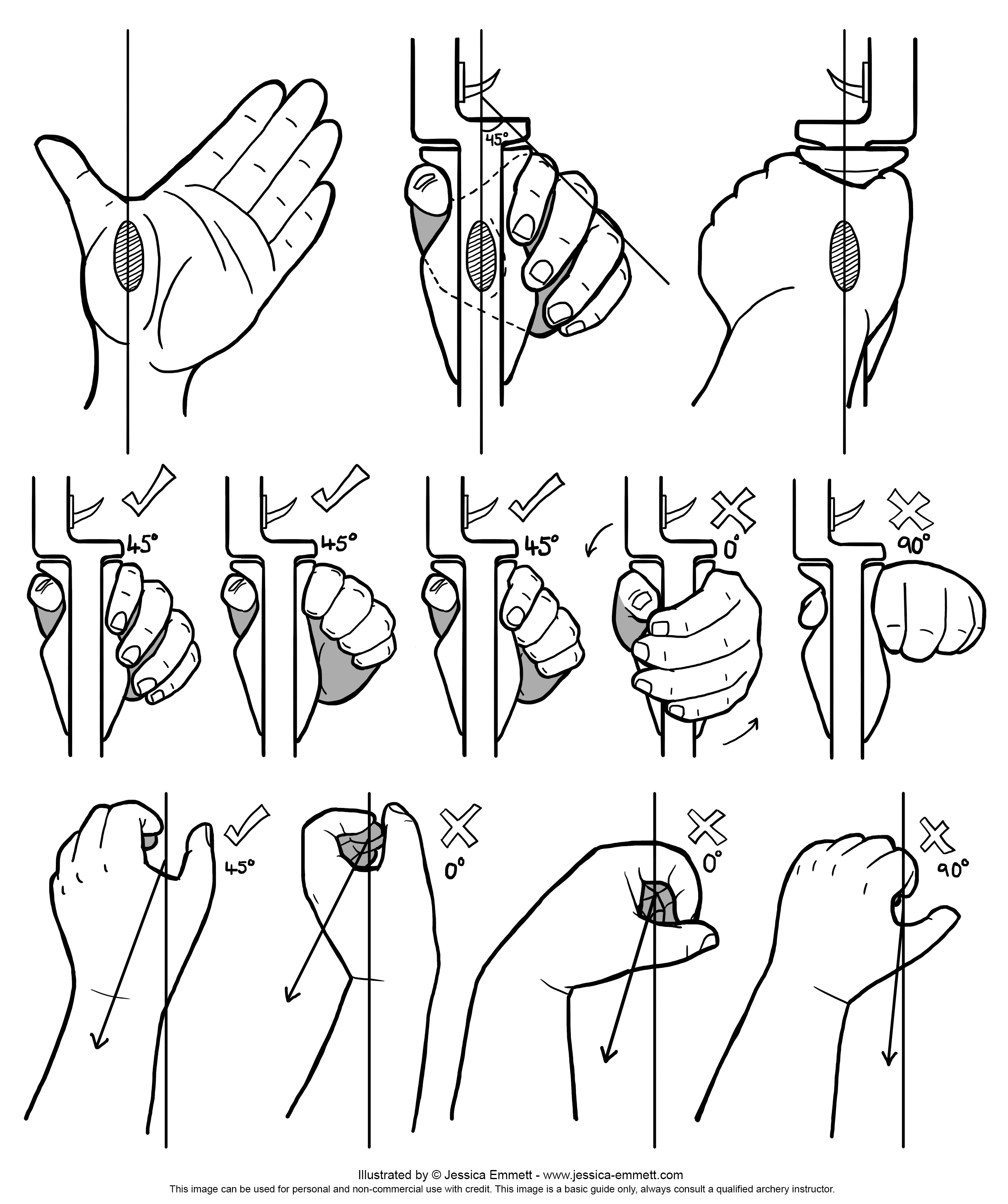 #4 – Prepare everything in order to shoot the right target
Some small points also play a key role in the right shooting such as adjust your fingers on the bowstring and place the string in order to touch your nose to make a proper fulcrum.  
After that, close one eye and get the bow on the right line in order to handle the string for shooting the center of your target.
#5 – Do not rush
Keep calm and shooting your target are other important points to stay focused on. Do not rush to shoot the bowstring quickly when your mind does not get ready. Take a breath and begin your game.
On the flip side, you should forget some issues on your mind in a few minutes and just stay focused on the game.
Be sure to adjust the string drop out of your fingers. Then, you could keep your position until your arrow catches the aim.
# 6 – Hit the bowstring to the right target consistently
A thumb of rule to be successful in playing archery is that you should do the similar thing between your position and be retrieved on the string.
#7 – Improve your strength
To have strong muscles group for playing archery, you need to practice a workout program both on your chest and shoulders.
Get a shooting position with your bow and then getting the string back. Keep it within a half minute and take a deep breath. Repeat this exercise many times until your chest and arm muscles feel comfortable.  
#8 – Keep moving forward
When you practice your bow on regular basis, your archery ability is improved quite well. Your arrow ought to move up to 60m each second and your targets could be increased up to 90m. You can get the greatest points for making the gold circle. One twitch and your arrow will not reach the board. This process is called the X-ring.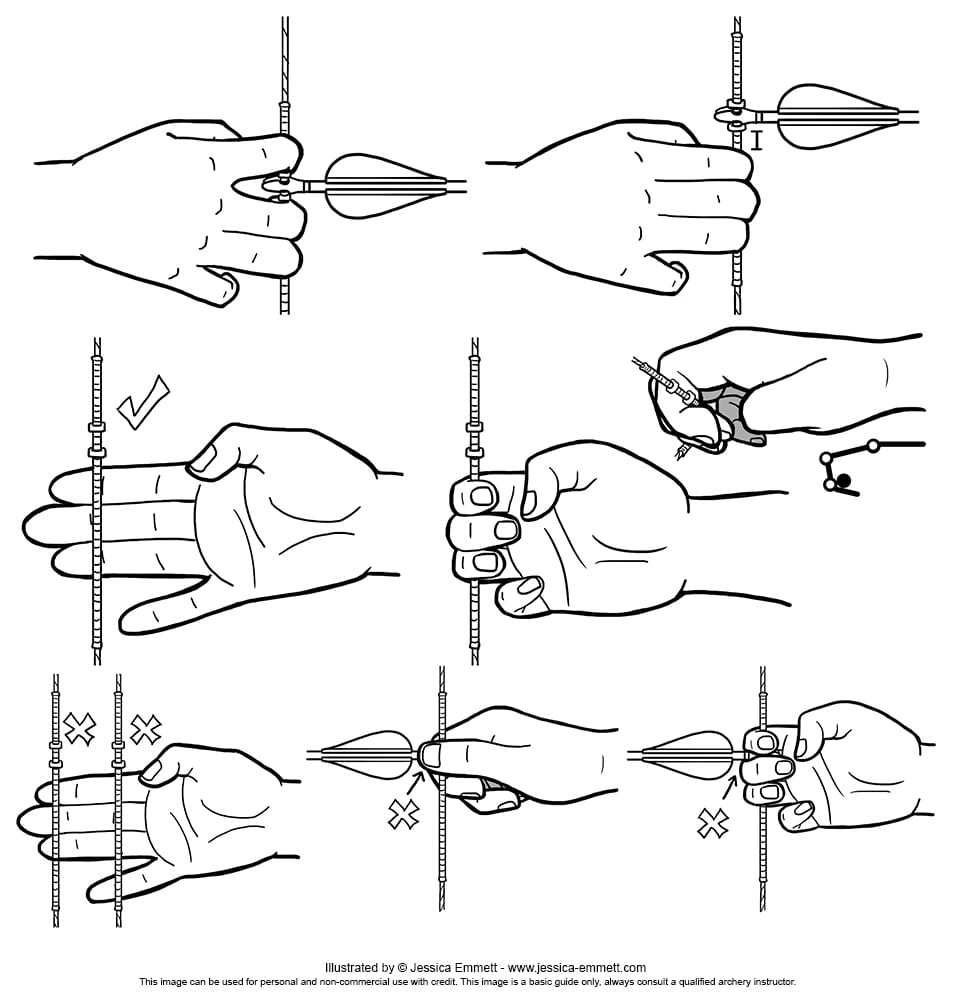 #9 – Understand the scoring
Scores are awarded relying on the location you strike the arrows. It checks from the outside white ring to the inside gold through the center point between 1 and 10.
To get a high score, you need to go through the line between all circles. If your arrow takes these points, the location that ends up helping you get a score.
If you make an arrow that could not insert or pass through the target, you will also get a score. If an arrow bounds back, you will need to take a flag and make a signal to mind them.
If one arrow embeds to another arrow, you will also get a score from the first arrow. When you hit an arrow without aiming, this is known as a shot. If you can expand your hands and catch the arrow, you will shoot the arrow again without getting any penalty.
In case you make an arrow out of the time limit or out of turn, you do not get the score.
Final Words
Archery has some simple rules that every player could understand. The gearbox does not require many complex items to begin. You should pay attention to some small points and increase your practice routinely to become a guru. Everyone can play this sports game to relax and learning something new.